'Bombs Away' bombs in U.S.
Sheppard 'Bombs Away' Album Review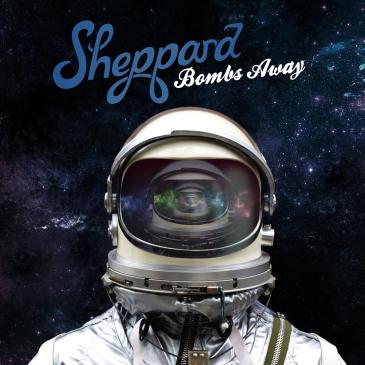 Australian family band Sheppard has made their U.S. debut with their first album, Bombs Away. Unfortunately, despite the war cry title, the album falls short on the battlefield.
Formed by siblings George (vocals), Amy (vocals), and Emma Sheppard (bass), along with their friends Jay Bovino (guitar and producer), Dean Gordon (guitar), and Michael Butler (drums), Sheppard skyrocketed to success in Australia. Their debut album went multi-platinum, which is commendable– though I'm not quite sure how it did.
The album is a grab-bag of genres and instruments, and while applause must be awarded for creativity and daring, the 12-song track-list leaves you feeling dizzy. There are too many foot-stompers, too many clapping choruses, that it all bleeds together in a chaotic blur. Almost every song has an obligatory break, where the drum kicks halt and the voice croons over a singular guitar. The trick gets tired.
The band has talented vocalists, but there's an overarching feeling like they ought to be belting out piano ballads instead of folk rock. This is especially felt in strained songs like Hawaiian-esque "Smile," that sounds like Amy is singing through a grimace. "Halfway to Hell" and "This Electric Feeling" are bright spots, the kind of dark-indie style the name Sheppard intones, and Amy's voice is a clear fit for the snarling lyrics. But the album practically vibrates with unrecognized potential. Give the girl an Ariana Grande moment already.
The band's most popular single is "Geronimo," a classic ear-worm that would fit right in backing a Keds commercial montage of teenagers running on a beach. It bumped Pharrell Williams' "Happy" off the charts in the Down Under, but the single currently sits at No. 63 on Billboard's Top 100.
While the beats are good, the lyrics could use a little (or a lot) of work. A nine-year-old could write the same content. "These People" sings (over and over and over): "these people push me around. I'm tired of people keeping me down." Not exactly creative genius. The phrases "player" and "hater" may've been hits in Taylor Swift's "Shake it Off," but that's because she used them ironically. In "A Grade Playa," Sheppard is downright serious, and it only makes the song even more cringe-inducing.
"Let Me Down Easy," their first single which somehow earned success (in Portland), is disheartening, not just in lyrics, but also lack of originality.
On the plus side, the album art is cool, but it's yet another factor in the band's identity crisis, looking better suited for a pop newcomer rather than a folk-rock fam-band.
The overall word we're looking for is 'immature,' as in 'not yet realized.' Bombs Away is commercial ready, shiny teeth and long ombre hair included, but it isn't memorable. Maybe next time, kids.
About the Contributor
Meghan Bennett, Staff Reporter
Meghan Bennett is a senior at Normal Community High School. This is her first year on the Inkspot as a staff reporter.



Words To Live By


"Draw...