Best Picture
Feb 9, 2020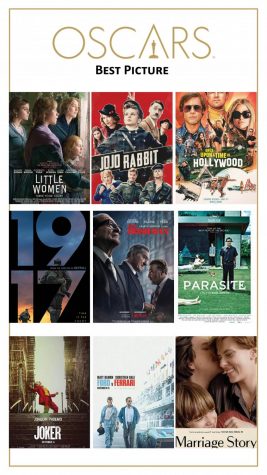 Ford V. Ferrari
The Irishman
Jojo Rabbit
Joker
Little Women – want to win
Marriage Story
1917
Once Upon a Time in Hollywood – will win
Parasite
While the merits of Little Women have been exhausted [read the full coverage in the February print edition] it clearly the Inkspot's pick for the Best Picture of 2019. However, it will not take home that coveted award.
Tarantino's Once Upon a Time in Hollywood is a recipe for success. The film is filled with a dream cast – Brad Pitt, Leonardo DiCaprio, and Margot Robbie – who produced stunning performances, resulting in all three receiving nominations in their respective categories.
The film is the perfect homage to old-time Hollywood, which traditionally pleases the members of the Academy.
Being based on a true story enhances the film's chance of success as well. Last year's Best Picture winner Green Book (2018), as well as Titanic (1996), Dances with Wolves (1989), and Platoon (1985) were all adaptations or fictionalizations of actual events.
In fact, 52 Best Picture nominations since 1990 have been based on real events.
Tarantino took risks in the production of this film, straying from his penchant for extreme gore and violence seen in his earlier works such as Pulp Fiction (1994) and Reservoir Dogs (1992). Tarantino played more with the characters and the story than just blood and guts. This risk puts him at an advantage, showing his talent as a director.