Best Actress in a Supporting Role
Feb 9, 2020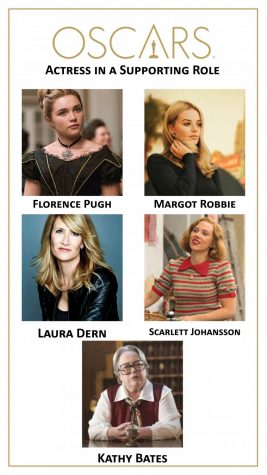 Florence Pugh in Little Women – want to win
Kathy Bates in Richard Jewell
Laura Dern in Marriage Story – will win
Margot Robbie in Bombshell
Scarlett Johansson in Jojo Rabbit
Laura Dern did an incredible job giving a voice to one that is typically voiceless – the divorce lawyer. Although she gave a bold and believable performance, Florence Pugh deserves so much for her hilarious, lovely, and robust performance in Little Women.
Pugh conveyed the challenges and emotions that go along with growing up, giving her character depth that is challenging to contain as a supporting role.
Pugh's character, Amy March, is extremely dynamic, lively, and strong while still only supporting and not overpowering the lead. With limited screen time, her performance was breathtaking and inspiring to that watched the film.
With Midsommar, Little Women, and Blackwidow on the way, Pugh deserves recognition for this breakout performance.