Best Actress in a Lead Role
Feb 9, 2020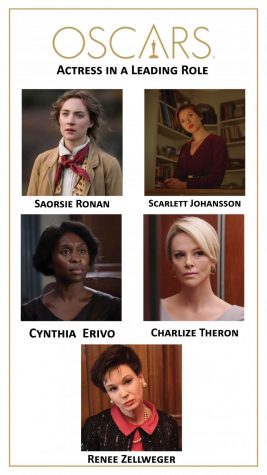 Saorise Ronan in Little Women – want to win
Cynthia Erivo in Harriet
Scarlett Johansson in Marriage Story
Charlize Theron in Bombshell
Rene Zellweger in Judy – will win
There is a lot of pressure in portraying someone as well known and loved as Judy Garland. Yet, René Zellweger does so beautifully, bringing a beloved Hollywood icon back to life for 118 minutes.
Biopics perform exceptionally well during the award season. In last year's awards, four out of five Best Actors nominations starred in biopics, the winner – Rami Malek for Bohemian Rhapsody (2018).
According to The Wrap reporter Brian Welk, within the last decade, the nominees from biopics surpassed nominees portraying original characters – 23-22.
It is no surprise that Zellweger is a front runner considering her role. And while audiences have high expectations for performers to capture the nuanced mannerisms, the look, the speech of well-known subject, the source material is there to work from.
So, let's not forget this generation's newest feminist icon, Little Women's Jo March, played by Saorise Ronan. Ronan gave an original heartbreaking and empowering performance that both tore apart hearts and put them back together.