Best Actor in a Supporting Role
Feb 9, 2020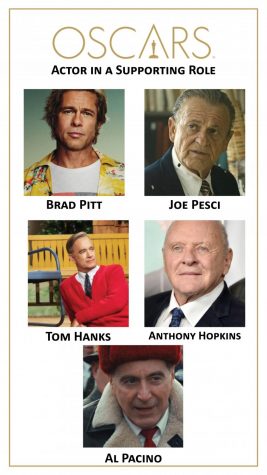 Tom Hanks in A Beautiful Day
Anthony Hopkins in The Two Popes
Al Pacino in The Irishman
Joe Pesci in The Irishman
Brad Pitt in Once Upon a Time in Hollywood – want to win; will win
Brad Pitt has received nothing but praise for his performance in Quentin Tarantino's Once Upon A Time In Hollywood. His acting is effortless, and he truly embodies his character, Cliff Booth – the gritty stunt double for Leonardo DiCaprio's washed-up actor.
Pitt has had many successes during his acting career, and this film is no exception. Because of Pitt's successful career, playing a washed-up actor could be a seemingly challenging role to portray. Still, Pitt does it so effortlessly. He leads the audience to believe that his career has run its course, when, in reality, it is flourishing.
Pitt channels an alternate reality version of himself. One that doesn't have two Best Actor Oscar nominations. One without a Best Picture award on his mansion's mantel at home. One where he never made cult classics like Fight Club or Seven or orchestrated elaborate Vegas heists in the Ocean's trilogy. One that never was in a relationship with leading ladies like Gwyneth Paltrow, Jennifer Aniston, or Angelina Jolie.
Though Pitt is up against the iconic actors Joe Pesci and Al Pacino, the two didn't have to stretch to play their roles in The Irishman. Joe Pesci has paired once again with director Martin Scorsese after previously working together in Raging Bull (1980), Casino (1995), and Goodfellas (1990). Al Pacino returns to the mob genre for the fifth time, following up the Godfather trilogy, Scarface (1983), and Heat (1995). There is nothing new from the two actors, making their performances almost boring. Compared to his competitors, Pitt's spunky and tough act will win him this award.