Best Actor in a Leading Role
Feb 9, 2020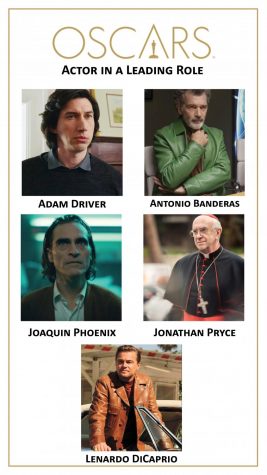 Adam Driver in Marriage Story – want to win
Leonardo DiCaprio in Once Upon a Time in Hollywood
Joaquin Phoenix in Joker – will win
Antonio Banderas in Pain and Glory
Jonathon Pyrce in The Two Popes
Joker was a smashing hit at the box office, making $93.5 million, and Joaquin Phoenix's performance was an essential factor in those sales. Humanizing a villain isn't an easy task, but Phoenix took on the challenge and came out on top.
For the Joker being such a familiar character, one Heath Ledger took home an Oscar for, Phoenix was left with big shoes to fill. And he fills them, adding his own more profound and darker twist, putting the Joker in a new light. Phoenix gives audiences a refreshing performance of a tired DC Comics villain, one that won him both the Golden Globe and SAG award for this category.
In January 2016, Jason Bailey, writing for Flavorwire, found that over the past decade, the Globes boasted a nearly 90 percent accuracy rating for predicting the Oscars' acting awards. This historical trend, paired with Phoenix's haunting performance, makes him a shoo-in for Best Actor.
But statistics are secondary to emotion when acting; emotion is something that Adam Driver exudes in Marriage Story. Driver puts all of himself into this film, and his emotion is felt from every corner of the theater as he plays Charlie – a self-obsessed, yet loving father – who fights desperately to keep his child during a trying divorce in the film.
Driver reminds viewers of the challenges of life and that those challenges don't always have simple solutions. Charlie is a complex and confusing character in the most amazing of ways. This dynamic and emotional performance is fit for winning the Oscar.