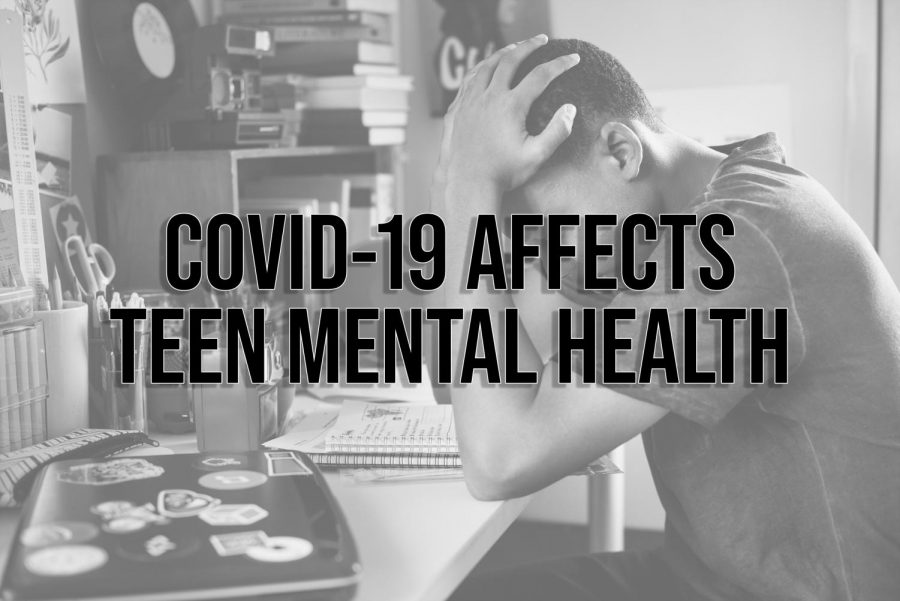 COVID-19 affects teen mental health
Isolation. Stress. Anxiety. Depression. 
All side-effects of a global pandemic.
Teens across the country face unforeseen challenges as they navigate school, jobs, and relationships during the ongoing coronavirus pandemic.
In March of 2020, the COVID-19 outbreak shut down schools nationwide, sending teens into months of quarantine and social distancing. This lack of social interaction, on top of the other pandemic related stressors — like concerns about their safety and the safety of loved ones — is especially hard on teens.
According to the Center for Disease Control, the pandemic has directly impacted teens by causing them to experience changes in routines, miss major life events, transition to virtual learning, and loss their sense of security and safety. 
This all is taking a toll on their mental health.
According to the 2016 National Survey of Children's Health, before COVID, 16.5% of people under the age of 18, or 7.7 million, dealt with a mental health disorder. According to a survey conducted in May by  the National 4-H Council, seven out of ten teenagers dealing with mental health issues. 64% of teens surveyed believe that COVID-19 will have a lasting impact on their mental health, while slightly less than half of teens reported experiencing excessive stress and depression. 
More than half of the teens who participated in the 4-H survey stated that the pandemic has increased their feelings of loneliness, with 45% saying that they try to ignore their feelings or isolate themselves when dealing with mental health issues, and 65% reporting that they try to deal with their feelings on their own.
"Their parents are unsure of how to help them or who to turn to for support," NCHS Counselor Mrs. Kristi Chase said, "[and] those community supporters are treating their processes differently due to COVID, making it difficult to receive that help."
According to Chase, due to the remote learning and the hybrid schedule, anxiety is up for NCHS students. This anxiety is being experienced by high schoolers nationwide, as more than half of the teens survey by 4-H reported experiencing anxiety.
"[Students] are just beyond overwhelmed," Chase said, "both from the personal side and the school side, trying to learn [and] create relationships through a screen."