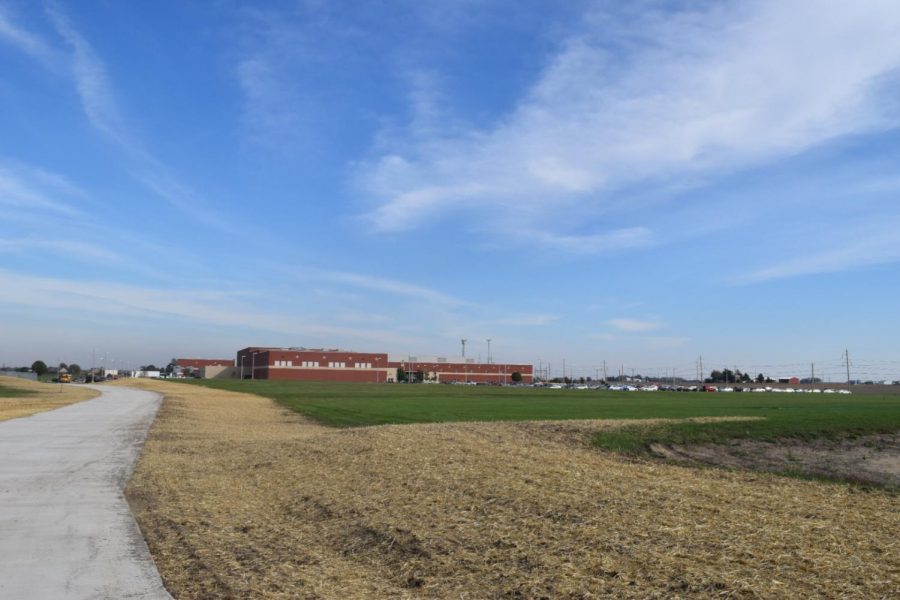 New road connects NCHS, Eastview
A new road is being constructed between Normal Community High School and Eastview Christian Church. The construction began in early October and is scheduled to be completed by November 5.
Eastview initially proposed the idea of building the road and has funded the project. The church uses NCHS's student parking lot for additional parking during their Sunday morning services. The road will make shuttling those who park in the school's lot quicker and more efficient.
For NCHS, the addition of the road will aid traffic flow during larger events such as football games and IHSA tournaments. The road will not be used as an additional entrance/exit during the school week for the time being.
NCHS principal Trevor Chapman stated that navigating traffic through the Eastview parking lot is too big of an issue for the driveway to be a daily entrance/exit. "People just drive through the middle of parking lots and that's very dangerous." When the school uses the road for special events, supervision and staff members and cones will be necessary. "You need a lot of people and a lot of pre-planning for that and on an average school day, I'm not sure how we'd be able to accomplish that at least at this point."
Gates on either end of the road will be installed to prevent drivers from using it during school hours.
The idea of building the road was introduced 18 months ago. The district and church's attorneys went through months of paperwork before the easement–the right to use the land between NCHS and Eastview–was passed by the Unit 5 School Board on September 13.
Mark Warren, the Pastor of Operations at Eastview, stated that "it's taken a little longer than what we had thought. There's a lot of legalities as far as easement and liability issues . . ." Despite the long timeline, Warren states that working with Unit 5 has been a good process. Chapman seconds his sentiments, saying that "[Eastview has] been really great to work with. This is something that benefits both parties."
As the road reaches completion, both sides are ready to sync up their calendars and explore other possibilities for it beyond overflow traffic easement. Chapman stated that "there's a lot of unknowns, but the good news is once it's constructed, then we can sit down and plan and figure out how we can best use it."