Sweet Spot: Volume Five
Mallory Thomison's Valentine's Day Cake Pop Recipe review
Feb 14, 2023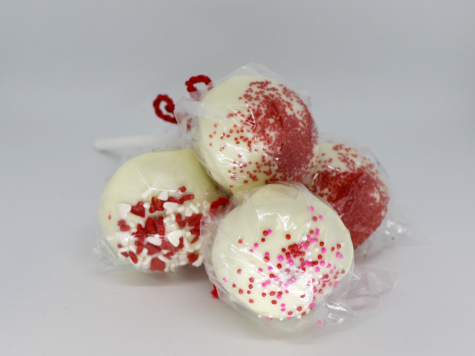 In the February Issue of the Inkspot magazine, Mallory Thomison offered up an easy and affordable Cake Pop recipe.
Like Valentine's Days from years gone by, Thomison brought her cakey creations into class to share.
This edition, the Sweet Spot breaks the regular mold — veering away from the norm. This time, Sweet Spot reviews a homemade treat from a fellow Inkspot Staffer to determine if Thomison's recipe was love at first bite or just confectionary fling.
This week, Dylan Wehmeyer and Anna Dunne review Mallory Thomison's Valentine's Day Cake Pop recipe from the February edition of the Inkspot magazine.
Every February, bakeries around the globe fill their stores with Valentine's Day treats — heart-shaped cookies with red frosting, candied hearts, red velvet cakes, you name it.
Why buy from a bakery, from Little Debbie when you can show your loved ones how much you care with a little effort?
That's what Thomison did for her fellow Inkspotters — baking cake pops for her classmates.
White on the outside, a crunchy candy covering, soft cake on the inside — her cake pops are enough to make anyone fall in love.
Decorated in sprinkles — red, pink, white; candy hearts; glittering sugar crystals — the cake pops looked lovely.
Would their taste live up to their appearance?
---
Dylan: Hit the Spot
Valentine's Day brings to mind images of Cupid, heart-shaped cookies, candygrams and conversation hearts.
When Mallory Thomison's brought her homemade Valentine's Day cake pops to the Inkspot classroom — I was quickly reminded Valentine's Day is about personalized acts of love.
And what better way to show someone you care than to put in the effort to bake something for them? Anyone can swipe a credit card, pick up a card, but the extra step of making something yourself is a true sign that they mean something to you.
The white candy-covered cake pops were perfectly round, each delightfully covered in its own sprinkle assortment — glitter, hearts, red and pink.
The cake pop looked so wonderful, I almost didn't want to eat it.
Temptation prevailed as I took the first bite.
First, I tasted the creamy white chocolate coating.
Then the moist cake inside.
I was taken aback by the powerful combination of textures and flavors, and I wanted more and more.
The treat reminded me of a snow day and baking with my mom when I was little.
How it was able to transform me back 10 years, I will never know. But there is something about baking that just says love.
My nostalgia ended as only the cake pop's delicate lollipop stick remained.
Transported back to the present, the cake pop's aftertaste remained — a satisfying taste lingering on my lips.
Such deliciousness can only come at a steep price, right?
Wrong.
For around $15 of ingredients, Mallory made 12 cake pop — running her a little more than a $1 a treat.
This one-dollar Valentine had me wanting to tie on an apron and bake with my mom, to spend the day cooking in the kitchen with my friends and family — it was pure love.
Anna: Hit the Spot
Valentine's Day is not without its ups and downs. For those in a relationship, it's a day dedicated to those you care about. For those who aren't, it's a 24-hour-long reminder of loneliness.
But one thing everyone can appreciate, whether or not the Hallmark Holiday is marked on your calendar, is the sweet treats lining every store in February.
This year, the Inkspot taste testers did not have to travel far to get a taste.
Senior Staff Reporter Mallory Thomison shared the love, straight from her own kitchen, baking Valentine's themed cake bites dipped in white chocolate.
When I sank my teeth into the smooth chocolate shell, I felt pierced by Cupid's arrow – it really was love at first bite.
Inside, the gooey cake made my mouth water.
Each element of Mallory's cake pops worked cohesively, the crunch of sprinkles placed delicately on the outside of the sphere being the icing on the cake for me, quite literally.
And while it may appear small on the outside, the dense inner workings of the treat left me perfectly satisfied after a few bites.
But the combination of textures and filling could not compare to the execution of appearance. With adorable pastel colors and a neatly tied bow, the attention to detail only made the dessert taste better.
Most importantly, Mallory showed that the best ingredient in a Valentine's Day treat really is love.