Sweet Spot: Volume Four
Crumbl Cookies' Peppermint Cupcake cookie review
Jan 5, 2023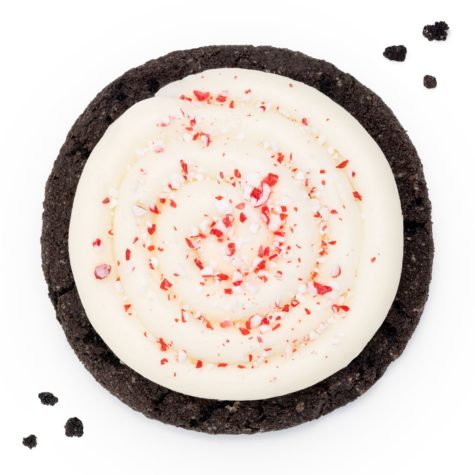 The Sweet Spot puts desserts from eateries around town to the test, deciding whether they hit the spot or miss the mark.
Two Inkspot staffers review each product based on taste, presentation and value – separating the savory sweets from the crummy confections.
This week, Abby Ruebush and Avani Rai review Crumbl Cookies' Peppermint Cupcake cookie. 
In the wonderful world of sprinkled, frosted and powdered gourmet cookies, the Crumbl Cookies franchise has risen to food fame as fast as its experimental cookie dough rises in the oven.
Five years after the first Crumbl Cookies bakery opened in a town smaller than Bloomington, the company has taken the food blogging world by storm and expanded to hundreds of locations nationwide.
So, expectations were high when Bloomington-Normal's cookie connoisseurs were promised a Crumbl Cookies eatery in September.
But when the month passed without a single indication of the franchise's unmistakable pink signage, eager customers' hopes of larger-than-life cookies began to crumble.
Then, without much warning or fanfare, it happened: 
The bakery and its iconic, Instagram-worthy cookies arrived at College Hills the first weekend of December—an early Christmas present for sweet fanatics and occasional enthusiasts alike. 
Now, BloNo finally gets a taste of the rapidly popularized, rotating menu that has dessert devotees salivating from coast to coast.
Inkspot staff capitalized on the opportunity to try the seasonal Peppermint Cupcake cookie and decide: Are Crumbl's costly cookies worth the dough?
---
Abby: Hit the Spot
From Ghirardelli's iconic holiday bark squares to Dairy Queen's candy cane-flavored Blizzard of the Month, one flavor has always ruled my holiday season: peppermint.
When I found this Christmas staple on Crumbl Cookies' revolving menu one crisp December morning, I knew the treat—the Peppermint Cupcake cookie—would be my first of hopefully many purchases at Normal's new gourmet cookie shop.
As I inched up the white- and pink-painted bakery's inevitably long line, slowly nearing the flavors of the week arranged on a glossy counter by the register, it became evident that I was a Crumbl first-timer.
No amount of website stalking could have prepared me for the impressive height and nearly snow globe-sized circumference of my target cookie: a chocolate base brimming with Oreo crumbs, topped with a swirl of peppermint cream cheese frosting and candy cane shavings.
Fortunately, from an aerial view, the cookie looked exactly as advertised on the Crumbl website—a welcome anomaly in a world of misleading food presentation.
For nearly five inches and four servings of perfectly spaced peppermint swirls, the cookie's price tag—an initially daunting $4.88—suddenly seemed less deserving of a place on Santa's naughty list.
Of course, the true test of the product's merit would be its fittingness for the man in red himself—its taste.
After hearing countless Crumbl customers rave about the bakery—reviews that the cookie's refreshing mint scent only reinforced—I anticipated that first bite like a five-year-old in bed on Christmas Eve. This was my first foray into Crumbl's outside-of-the-gift box cookie variations, so my opinion of the franchise as a whole was on the line.
With one taste of the rich holiday treat, I knew: I would return to Crumbl for seasons to come.
The first few bites of the classic chocolate and mint pairing were perfection.
The cookie itself was delightfully fudgy, a flavor the dusting of Oreo crumbs highlighted flawlessly.
The frosting struck a nice balance between mint and cream cheese, a pairing that could be tragic if mixed in the wrong proportions. Even the candy cane pieces, included mostly for aesthetic, were well-chopped to create a satisfying, but not excessively hard, crunch.
For the first few bites, that is.
Several bites later, like countless well-meaning children, the treat began to enter the gray area between naughty and nice—but the bakery promotes cookie cutters designed to split their massive treats in fourths for a reason.
After eating about a quarter of the cookie, the dense base becomes overwhelming, and the peppermint frosting begins to resemble sticky toothpaste. Holiday decorations and lights are destined to be stuck to rooftops in December, but holiday desserts stuck to the roof of your mouth…not so much.
Still, the cookie's progressively worsening quality can be chalked up to user error.
The entire premise of the franchise and its iconic cookie cutters is for consumers to test its experimental flavors in sharable, fractionated quantities—not to consume all 680 calories of cookie in one sitting.
Claiming the cookie begins to worsen after exceeding one serving is like complaining an Elf on the Shelf is defective after Mom and Dad forgot to move it.
As long as one uses the product properly—one serving at a time—and leaves the rest of the dessert to be savored later, Crumbl's Peppermint Cupcake Cookie deserves nothing less than a spot on Santa's tray.
Avani: Missed the Mark
The only pinned playlist on my Spotify is titled "Christmas in October." At the slightest hint of cold weather—which, in Illinois, comes early enough—it's on neverending repeat. After all, however you feel about the appropriate time to listen to Christmas music, no one can deny that Mariah Carey can hit high notes all year round. 
And, without fail, whenever these holiday tunes blast through my speakers, my desire for peppermint-flavored desserts is reignited.
Give me a product with distinct candy cane swirls of red and white—peppermint Oreos, peppermint ice cream, peppermint candies—and I can't get enough.
So, when the elusive Crumbl Cookies finally arrived in town, and the opportunity to get my first taste of the renowned gourmet cookies came in the form of the Peppermint Cupcake, I was brimming with excitement.
Before I could open Crumbl's signature, perfectly-pink box that guarded its desserts, a magical, peppermint aroma enveloped me—evoking the most endearing memories of past Christmas celebrations. 
Aesthetically speaking, the cookie itself lived up to Crumbl's notoriously extravagant standards.
While it was not the most elaborate item the franchise offers, the Peppermint Cupcake's rich, chocolate base enhanced its striking swirls of peppermint cream cheese frosting. The towering delight was fittingly topped with sprinkles of candy cane pieces that enticingly danced across its icing—effectively wrapping it all up with a bow.
Reflecting on that gloriously joyous moment, I wish there was something I could've done to stop what came next. 
As soon as I took a bite of the cookie, I realized I had been betrayed by false pretense—my fairytale was shattered. 
Despite the cookie's deceiving appearance, its taste was an imperfect amalgamation of conflicting flavors. 
While the chocolatey base did its best to ground the cookie—its taste and consistency reminiscent of nostalgic homemade treats—it was wholly unsuccessful in reining in its unruly counterpart.
The thick, peppermint-infused cream cheese frosting was overpoweringly concentrated, veering dangerously far into sickeningly sweet territory and turning this early present into a true nightmare before Christmas.
These two flavors were purely offensive when paired together—two independent expressions of the holiday wasted on each other.
Further, cautious bites only worsened my opinions of the woeful experience, and the once-pleasing peppermint scent quickly became nauseating.
The worst part of the whole affair? 
The cookie's grotesque aftertaste lingered long after my final bites—my mouth haunted by the ghosts of this Christmas monstrosity.
I found myself unable to finish my portion, and it was abundantly clear that I had been cheated—as if the Grinch had stolen what should have been a magical holiday experience.
The cookie's price tag—a whopping $4.88 that would have been better spent on coal—cemented my feelings toward the product; it was overdone, overpriced, and overrated—a larger-than-life cookie that was a colossal disaster.
Crumbl's sole saving grace is its famed "rotating menu"—employed to create a sense of scarcity—meant the product would sour the Christmas spirits of hopeful customers for just a few more days. 
If the franchise does make the unfortunate mistake of putting the item back on its menu, I would strongly warn any customer—no matter how daring—against it.
Believe me when I say all I will ever want for Christmas is anything but Crumbl Cookies' Peppermint Cupcake.