Sweet Spot: Volume Three
Insomnia Cookies' Glampire Loaded Brownie review
Oct 26, 2022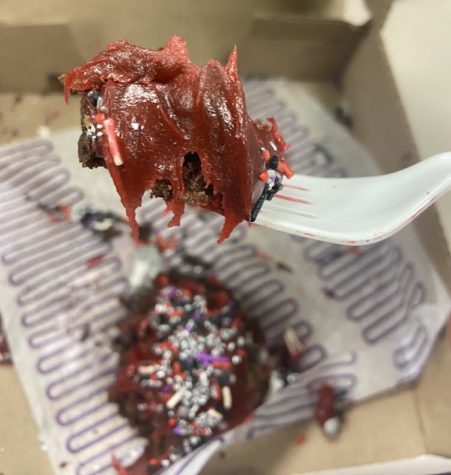 Each week, the Sweet Spot puts desserts from eateries around town to the test, deciding whether they hit the spot or miss the mark.
Two Inkspot staffers review each product based on taste, presentation and value – separating the savory sweets from the crummy confections.
This week, Abby Ruebush and Dylan Wehmeyer review Insomnia Cookies' Glampire Loaded Brownie.
Every October, bakeries across the country rush to release desserts mimicking Halloween's most iconic characters.  
Rice Krispy treats shaped like Dracula. Bat-shaped cookies. Cupcakes frosted with witch faces. 
But few bakeries launch treats designed to make customers feel like these Halloween staples.  
Insomnia Cookies' Glampire Loaded Brownie does just that.
Its blood-red frosting and bone-shaped sprinkles aren't designed to mimic a vampire but make customers feel like the bloodthirsty creature themselves. 
This unusual approach to a classic dessert begged an important question: Would our experience B Positive or B Negative? 
---
Abby: Hit the spot
The scariest thing to happen to me so far this spooky season? 
Opening an unassuming Insomnia Cookies box to find a dessert alarmingly shrouded with shiny sprinkles and bloodlike red velvet frosting: the Glampire Loaded Brownie.
The promotional images on Insomnia's website, while relatively accurate, could not have prepared me for the real thing.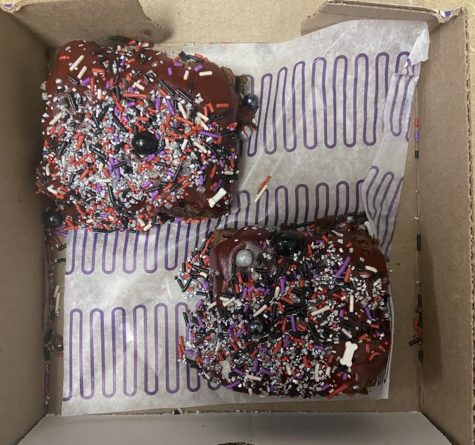 At least nine variations of glittery sprinkles spilled over a thick coat of crimson-colored icing, making it almost impossible to decipher the brownie buried underneath. 
"Glampire" certainly seemed an appropriate name for the dessert, given its overwhelmingly glammed-up toppings and frosting designed to resemble blood. 
So, too, "Insomnia" seemed an appropriate name for the shop selling the dessert. 
One glance at this nightmare of a treat, this creature from a gothic fiction cookbook, could have triggered insomnia in anyone. 
At least, that's how I felt before I took the first bite.
As I tentatively raised that plastic fork to my lips, anxiously wondering if the brownie's bone-shaped sprinkles would taste like the skeletal parts they were made to mirror, I experienced two emotions. 
First: relief. The sprinkles were surprisingly soft, and the frosting tasted pleasantly familiar.
Then: longing. 
For another bite. And then another. 
That red-blood frosting gave me life, just as real blood would a vampire. 
And the rich, dark-as-night brownie base was as good as any I had ever tasted. 
Suddenly, my feelings towards the dessert's skeletal sprinkles and blood-red frosting transformed from alarm to amusement. 
Sure, the brownie was far from aesthetic, but it did call to mind countless kitchen memories from my early childhood: a time when any dessert could become a sprinkle bomb with one haphazard tip of the shaker. 
For the first time in my life, unearthing something in my food that resembled bone felt fitting— not frightening. 
Even the red velvet frosting, buried what felt like six feet under the sprinkled surface, matched the monstrosity's fudgy innards perfectly. 
Of course, such daunting deliciousness came at a price.
$5.25. 
Practically a chainsaw-hacked arm and a leg for an ordinary dessert of its size, but the Glampire Loaded Brownie?
Not exactly ordinary.
A few extra dollars isn't so scary for a treat that evokes all the same emotions as a haunted house visit at first glance and simulates a vampire's euphoria upon sucking human blood.
Dylan: Hit the spot
Michael Myers. Freddy Krueger. Jason Voorhees. Ghostface.
All fear-instilling figures. All the stuff of nightmares.
After opening the Insomnia Cookies' box, I could add another name to that list — the Glampire Loaded Brownie.
One glance, and I, too would be having nightmares.
Gazing at the brownie before me, I was extremely overwhelmed.
It was nearly impossible to see the brownie beneath the thick layer of red icing and several varieties of sprinkles.
My first reaction to the Glampire Loaded Brownie?
Why does it look so much like meatloaf?
It evoked memories of old family dinners, resembling a ketchup-slathered slice of the brown rectangular supper staple.
Those initial thoughts of loafed meat made me hesitant to sink my teeth into the Glampire Brownie.
But how could I reflect on the dessert if I wouldn't taste it?
My first bite was a pleasant surprise.
First — frosting.
Almost pints of frosting, rich and strong.
That, mixed with the moist brownie, made for a powerful flavor combination.
The assortment of spooky sprinkles topping the brownie only added to the tastiness.
While I would never have imagined eating a brownie with bone-shaped sprinkles, they breathed more life into the brownie.
I quickly overcame my initial fear of the Glampire Loaded Brownie. It was true to its name loaded — with great flavor.
Sure it may have looked questionable at first, but after tasting the treat, what I once found off-putting, I now found amusing.
Such deliciousness didn't come without a scary price, though.
$5.25 per Glampire Loaded Brownie.
Although the brownie's price is a bit steep, it is worth it.
The Glampire Loaded Brownie may haunt your dreams at first glance, but it is truly a shapeshifter, quickly vanquished with bite after delicious bite.