Sweet Spot: Volume Two
Nothing Bundt Cakes' Pumpkin Spice Bundtlet review
Oct 5, 2022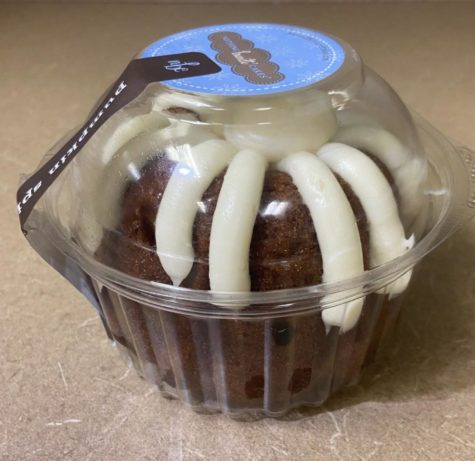 Each week, the Sweet Spot puts desserts from eateries around town to the test, deciding whether they hit the spot or miss the mark.
Two Inkspot staffers review each product based on taste, presentation and value – separating the savory sweets from the crummy confections.
This week, Abby Ruebush and Mallory Thomison review Nothing Bundt Cakes Pumpkin Spice Bundtlet.
---
Crisp leaves. Cozy sweaters. Pumpkins galore.
Hoping to cash in on customers' longing for all things autumn, eateries across the country rush to release pumpkin-flavored menu items as soon as the temperature drops below eighty degrees.
Our reviewers headed to Nothing Bundt Cakes, a bakery specializing in variations on the traditional bundt cake, to try their Pumpkin Spice "Bundtlet" for Normal's first week of fall weather.
This mini, pumpkin-flavored version of the bakery's classic dessert seemed the perfect way to kick off sweater season.
Abby: Hit the spot
From donuts to pie, cupcakes to ice cream, there's no better way to get in the fall spirit than with a pumpkin-flavored dessert. 
My expectations entering Nothing Bundt Cakes to sample their seasonal Pumpkin Spice Bundtlet for the first time? 
High. I've enjoyed many of the bakery's "bundtlets" before, so I was excited to try their take on my favorite fall flavor. 
My experience? 
Nothing bundt blissful.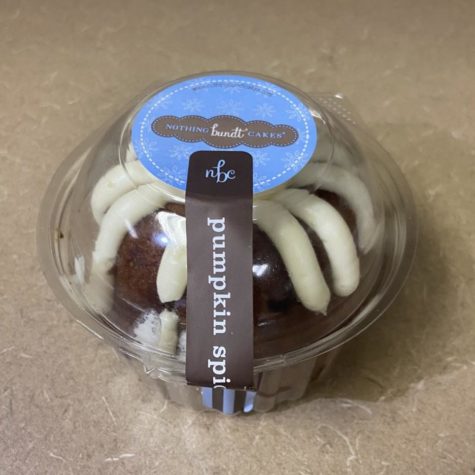 My mouth watered as soon as I saw cream cheese frosting circling the petite, deep orange cake in imperfect vertical stripes. The moment I opened the cutely-sealed package, the unmistakable scent of pumpkin wafted through the air. 
I easily slid my fork into the aromatic, perfectly textured cake. 
Then came the best part: that flavorful first bite. 
There are few better sensations than indulging in a spice that simultaneously pleases the nose and the taste buds. Add the bundtlet's deliciously thick, creamy frosting and you have an almost perfect pairing.  
The classic pumpkin spice and cream cheese combo, baked into the bundtlet's adorably petite signature shape made for pure autumn joy. 
Everything about the bundtlet— from the $4.75 I paid for what would eventually be three servings of mouthwatering euphoria to the nostalgic autumnal aroma that filled the air as soon as I opened the package— made me fall for the cake. 
It's not that the treat, even with its delightfully moist texture, tasted exceptionally better than the pumpkin nut bread my mom might make a few weeks before Halloween— or even the Entenmann's pumpkin donuts I could buy at any grocery store. 
It didn't. 
But perhaps it was because the treat so closely resembled the simple desserts of my childhood, complete with endearingly imperfect pipings of cream cheese frosting, that made it so easy to love.
The smell wafting through the air the moment I opened the charming package? Divine. 
The frosting to cake ratio? Flawless (Should you disagree, Nothing Bundt cakes offers additional frosting and frosting removal options). 
The overwhelming sense of the fall season invoked by that unmistakable dark orange tint alone? Priceless. 
If you ask me, $4.75 and 780 calories are small prices to pay for a sugary snack that can ship you back to seasons past.
Mallory: Hit the spot
The smell of bonfires, the taste of S'mores. 
Short sleeves traded for sweaters, sandals for boots. 
Ice cold lemonade turns to hot apple cider. 
Pictures posted from Raiders, Tanners, Curtis' Orchard & Pumpkin Patch.
Corn mazes. Hayrides. Pumpkin carving and hand-traced turkeys. 
It's Charlie Brown. It's centerpieces of leaves in shades of burnt orange, crimson, ruby and mahogany on the Thanksgiving table. 
Spring, summer, fall, winter. 
Let's be clear, fall is not the same as autumn. 
Fall is simply a season. Something you learned about in elementary school after mastering your days of the week and learned the months of the year. 
Autumn is an experience — you can smell autumn, you can taste it. 
Literally. 
For a limited-time only, this autumn is Nothing Bundt Cakes Pumpkin Spice Bundtlet season.
It's pretty clear I am a lover of all things autumn. I am the customer Nothing Bundt Cakes had in mind when they created their Pumpkin Spice cake. 
The moment I opened its clear plastic container, the air was filled with an inviting pumpkin aroma, a scent similar to walking past Bath & Body Works during this time of year — sweet, spicy, distinctly autumn.
Inside Nothing Bundt Cake's signature packaging was a rust colored cake delicately topped with cream cheese frosting that dripped down its sides. 
A wave of anticipation rushed through me as I picked up my fork to dig in. 
 That first bite met my expectations — and then some. 
The first bite tasted heavenly, which ultimately took me to a universe of all things autumn —  a world of perpetual pumpkins, where "It's the Great Pumpkin, Charlie Brown" is always on, where cider isn't just seasonal…
If autumn had a taste, it would be the taste of this bundlet. 
The cake's texture was pleasing,  soft with a springy inside. The smooth frosting that melted in my mouth. 
The cake was perfectly spiced and complemented with a cream cheese frosting that was not only sweet but also tangy, which together tasted otherworldly.  
Paying $4.75 for the tasty, satisfactory, and sentimental bundlet is worth it by far if you ask me.