And the Winner is… Supposed to be…
Feb 9, 2020
When the 92nd Academy Awards air Sunday, February 9, the voting members of the Academy of Motion Picture Arts and Sciences will recognize cinematic excellence. At 7 p.m. on ABC, 32 movies, nominated across 25 categories, will compete for the top award in film – the Oscar.
In 2018, Hollywood produced an abundance of high caliber films, making the Academy Awards a doozy for cinematic fanatics. While the Oscars are the most popular award event, drawing in just over 26.6 million viewers in last year's show, the films favored by the Academy are not necessarily favored by the people; the Hollywood Elite are acting, well, elitist. The Oscars are like the electoral college for film, where the popular vote does not always win.
Arts and Entertainment reporter, Kelsey Kern, is here as the voice of the people, bringing justice to the movies most deserving of recognition.
Best Actor in a Leading Role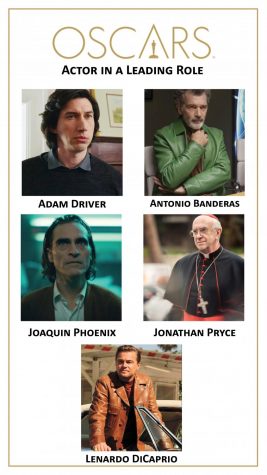 Adam Driver in Marriage Story – want to win
Leonardo DiCaprio in Once Upon a Time in Hollywood
Joaquin Phoenix in Joker – will win
Antonio Banderas in Pain and Glory
Jonathon Pyrce in The Two Popes
Joker was a smashing hit at the box office, making $93.5 million, and Joaquin Phoenix's performance was an essential factor in those sales. Humanizing a villain isn't an easy task, but Phoenix took on the challenge and came out on top.
For the Joker being such a familiar character, one Heath Ledger took home an Oscar for, Phoenix was left with big shoes to fill. And he fills them, adding his own more profound and darker twist, putting the Joker in a new light. Phoenix gives audiences a refreshing performance of a tired DC Comics villain, one that won him both the Golden Globe and SAG award for this category.
In January 2016, Jason Bailey, writing for Flavorwire, found that over the past decade, the Globes boasted a nearly 90 percent accuracy rating for predicting the Oscars' acting awards. This historical trend, paired with Phoenix's haunting performance, makes him a shoo-in for Best Actor.
But statistics are secondary to emotion when acting; emotion is something that Adam Driver exudes in Marriage Story. Driver puts all of himself into this film, and his emotion is felt from every corner of the theater as he plays Charlie – a self-obsessed, yet loving father – who fights desperately to keep his child during a trying divorce in the film.
Driver reminds viewers of the challenges of life and that those challenges don't always have simple solutions. Charlie is a complex and confusing character in the most amazing of ways. This dynamic and emotional performance is fit for winning the Oscar.
Best Actor in a Supporting Role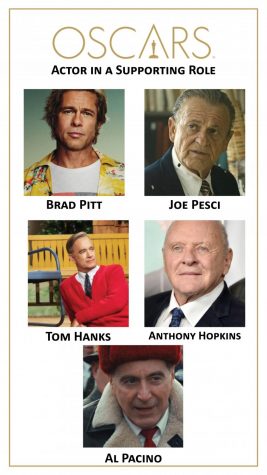 Tom Hanks in A Beautiful Day
Anthony Hopkins in The Two Popes
Al Pacino in The Irishman
Joe Pesci in The Irishman
Brad Pitt in Once Upon a Time in Hollywood – want to win; will win
Brad Pitt has received nothing but praise for his performance in Quentin Tarantino's Once Upon A Time In Hollywood. His acting is effortless, and he truly embodies his character, Cliff Booth – the gritty stunt double for Leonardo DiCaprio's washed-up actor.
Pitt has had many successes during his acting career, and this film is no exception. Because of Pitt's successful career, playing a washed-up actor could be a seemingly challenging role to portray. Still, Pitt does it so effortlessly. He leads the audience to believe that his career has run its course, when, in reality, it is flourishing.
Pitt channels an alternate reality version of himself. One that doesn't have two Best Actor Oscar nominations. One without a Best Picture award on his mansion's mantel at home. One where he never made cult classics like Fight Club or Seven or orchestrated elaborate Vegas heists in the Ocean's trilogy. One that never was in a relationship with leading ladies like Gwyneth Paltrow, Jennifer Aniston, or Angelina Jolie.
Though Pitt is up against the iconic actors Joe Pesci and Al Pacino, the two didn't have to stretch to play their roles in The Irishman. Joe Pesci has paired once again with director Martin Scorsese after previously working together in Raging Bull (1980), Casino (1995), and Goodfellas (1990). Al Pacino returns to the mob genre for the fifth time, following up the Godfather trilogy, Scarface (1983), and Heat (1995). There is nothing new from the two actors, making their performances almost boring. Compared to his competitors, Pitt's spunky and tough act will win him this award.
Best Actress in a Lead Role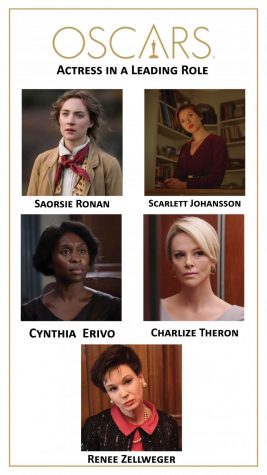 Saorise Ronan in Little Women – want to win
Cynthia Erivo in Harriet
Scarlett Johansson in Marriage Story
Charlize Theron in Bombshell
Rene Zellweger in Judy – will win
There is a lot of pressure in portraying someone as well known and loved as Judy Garland. Yet, René Zellweger does so beautifully, bringing a beloved Hollywood icon back to life for 118 minutes.
Biopics perform exceptionally well during the award season. In last year's awards, four out of five Best Actors nominations starred in biopics, the winner – Rami Malek for Bohemian Rhapsody (2018).
According to The Wrap reporter Brian Welk, within the last decade, the nominees from biopics surpassed nominees portraying original characters – 23-22.
It is no surprise that Zellweger is a front runner considering her role. And while audiences have high expectations for performers to capture the nuanced mannerisms, the look, the speech of well-known subject, the source material is there to work from.
So, let's not forget this generation's newest feminist icon, Little Women's Jo March, played by Saorise Ronan. Ronan gave an original heartbreaking and empowering performance that both tore apart hearts and put them back together.
Best Actress in a Supporting Role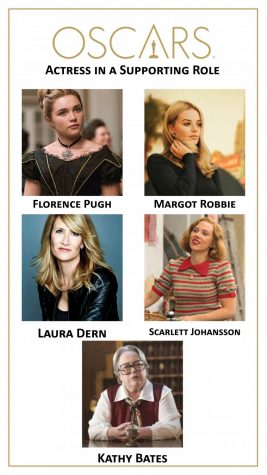 Florence Pugh in Little Women – want to win
Kathy Bates in Richard Jewell
Laura Dern in Marriage Story – will win
Margot Robbie in Bombshell
Scarlett Johansson in Jojo Rabbit
Laura Dern did an incredible job giving a voice to one that is typically voiceless – the divorce lawyer. Although she gave a bold and believable performance, Florence Pugh deserves so much for her hilarious, lovely, and robust performance in Little Women.
Pugh conveyed the challenges and emotions that go along with growing up, giving her character depth that is challenging to contain as a supporting role.
Pugh's character, Amy March, is extremely dynamic, lively, and strong while still only supporting and not overpowering the lead. With limited screen time, her performance was breathtaking and inspiring to that watched the film.
With Midsommar, Little Women, and Blackwidow on the way, Pugh deserves recognition for this breakout performance.
Best Picture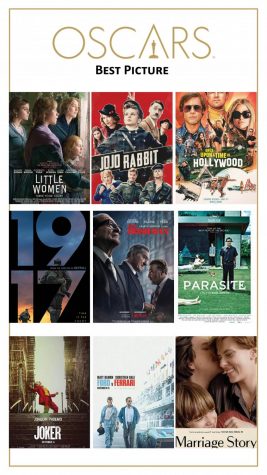 Ford V. Ferrari
The Irishman
Jojo Rabbit
Joker
Little Women – want to win
Marriage Story
1917
Once Upon a Time in Hollywood – will win
Parasite
While the merits of Little Women have been exhausted [read the full coverage in the February print edition] it clearly the Inkspot's pick for the Best Picture of 2019. However, it will not take home that coveted award.
Tarantino's Once Upon a Time in Hollywood is a recipe for success. The film is filled with a dream cast – Brad Pitt, Leonardo DiCaprio, and Margot Robbie – who produced stunning performances, resulting in all three receiving nominations in their respective categories.
The film is the perfect homage to old-time Hollywood, which traditionally pleases the members of the Academy.
Being based on a true story enhances the film's chance of success as well. Last year's Best Picture winner Green Book (2018), as well as Titanic (1996), Dances with Wolves (1989), and Platoon (1985) were all adaptations or fictionalizations of actual events.
In fact, 52 Best Picture nominations since 1990 have been based on real events.
Tarantino took risks in the production of this film, straying from his penchant for extreme gore and violence seen in his earlier works such as Pulp Fiction (1994) and Reservoir Dogs (1992). Tarantino played more with the characters and the story than just blood and guts. This risk puts him at an advantage, showing his talent as a director.