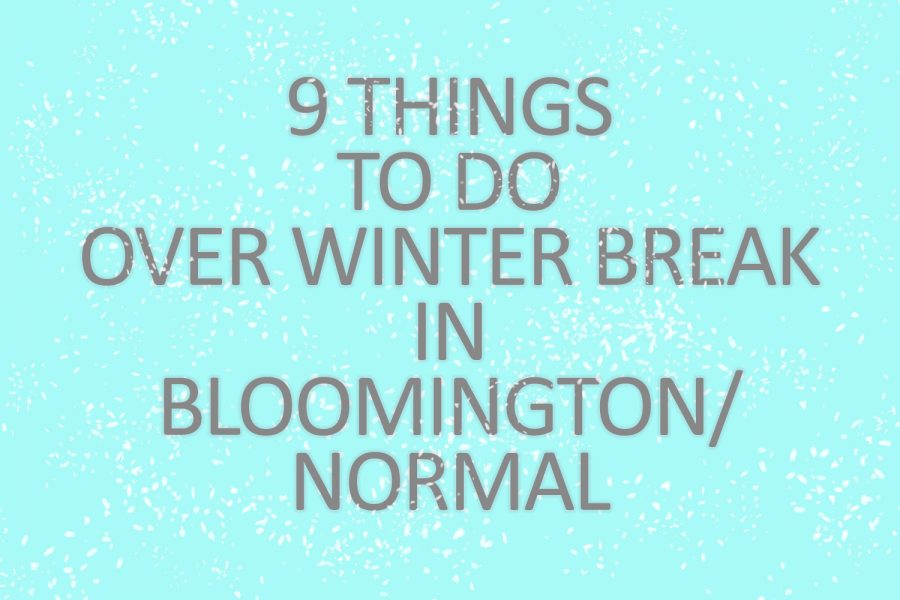 9 things to do over winter break
It is December 27 and you've done it all… made the trip to Peoria for the Festival of Lights, saw The Miracle on 34th Street at the Normal Theater, binge-watched so much Netflix that you are muttering theme songs in your sleep.
So what now? With just a little bit of holiday money left – you have some options to beat the break boredom.
Here are 9 things to get you out of the house and enjoying your winter break.
Climb
Upper Limits
Cost:
 Adult Day Pass – $18.00; Child Day Pass (10 & Under) – $15.00
Location:
 1304 West Washington Street Bloomington
Hours:
 Monday, Wednesday, Friday – 4:00 p.m.-10:00 p.m.; Tuesday/Thursday 12:00 p.m.-10:00 p.m.; Saturday 10:00 a.m.-10:00 p.m.; Sunday – 10:00 a.m -6:00 p.m. 
Phone: 
(309) 829-8255
Take fun to new heights this break at Upper limits in Bloomington. Learn the basics while taking a two-hour class learning the knowledge and technique to top rope climb indoors. This class includes instruction, equipment, and same-day climbing. There is also a 'Family Class' that is offered for children that are too young to participate in the other class. This is a fun and enjoyable experience for people of all ages. If you need to spend more time with your family bring them to Upper limits. Upper Limits is the perfect place to have fun with friends and/or family.
---
Escape
Escape Bloomington
Cost:
 $28 per person; $20 with a student ID
Location:
808 S. Eldorado Rd #100, Bloomington
Hours:
 Monday-Wednesday – 8:30 a.m.-5:30 p.m.; 
Thursday – 8:30 a.m.-7:30 p.m.; 
Friday – 8:30 a.m.-10 p.m.; 
Saturday 2 p.m.-10 p.m.; 
Sunday 1 p.m.-6 p.m.
Website: 
https://www.escapeteambuilding.us/listing-category/escape-bloomington
Phone:
(309) 808-3056
Want to escape from your family over break? Visit Escape Bloomington, where in order to win, you must work together with your group to solve the challenging clues, find the key and escape a series of rooms – all within 60 minutes.
The 60 minutes in the room may be stressful, but the satisfaction of escaping with your friends and family will be one for the books. Escape Bloomington is a great opportunity to practice your teamwork, grow closer with your group, and show off your impressive investigative skills. You will get to choose from 6 different themed escape rooms: some spooky mysteries, while the other options are more mundane but just as tricky.
Students under the age of 18 should have a parent or guardian present and a waiver signed by both the parent/guardian and participant. The rooms are geared towards players 14 years of age and older, but there is no official age requirement. Reservations are recommended to ensure you are able to get a room because slots fill up fast. You can make the reservation online or over the phone. Don't miss out on all the fun you can have at Escape Bloomington.
---
Sled
Sledding
Cost:
 Free 
Location:
Highland Park or Ewing Park III
Hours:
 Highland Park – 8 a.m.-4:30 p.m.; Ewing Park III – 6 a.m.-10 p.m.
Do you love adrenaline rushes? Do you have younger siblings, or enjoy getting out in the snow yourself? Then sledding is the wintry activity for you. Highland Park and Ewing Park III are both popular locations to sled in the Bloomington-Normal area. Highland Park Golf Course, located at 1613 South Main St., and Ewing Park III, located at 901 Jersey Ave., both have their benefits to sledders – including being absolutely and completely free (if you have your own sled).
The Connect Transition bus line Aqua K can be taken to get to Highland Park and the Orange H line can be taken to get to Ewing Park III. Highland is open for sledding during the winter season on weekends and school holidays has inner-tubes free to rent, hot chocolate to drink, and a fireplace to keep warm. Ewing Park might be a closer sledding spot for some NCHS students and has wider hours (although sledding at 9:30 at night is not something we recommend.)
Get your sleds, bundle up, and have some fun during this cold season!
---
Tag
Laser Tag
Cost:
 $20 per person/hour
Location:
4024 Prairie Commercial Park, Bloomington
Hours:
Open by appt. only Monday – Friday from 5:30 p.m.-9:30 p.m.; open play Saturday and Sunday 10 a.m.-5 p.m.
Phone: 
309-261-2596
Tag! You're it! At Urban Warfare you can use modified paintball guns to shoot lasers at opponents without any of the pain of paintball.  By adapting real paintball markers, laser tag is the new painless (and paint-less) way to play paintball indoors or outdoors. Laser tag is a great group bonding activity, a fun way to get off the couch and get some exercise, and a unique way to relieve everyday stress. After being cooped up with your relatives all break – who isn't a little stressed? Laser tag at Urban Warfare is something fun and unique to do indoors during the winter and gives you the look and feel of combat but without the pain or mess. After playing Call of Duty all break – maybe it is time to get up, and out, and move around?
---
Skate
Ice Skating
Cost:
 Open skate – $6 plus $2 per person for skate rental
Location:
 201 S. Roosevelt Ave., Bloomington
Hours:
 Ice schedule varies each week – check the schedule here 
Phone: 
(309) 434-2737
Maybe you went to the Pepsi Ice Center for a birthday party in the 5th grade – but it has been years. You probably didn't know that they have open hockey leagues? Or that they have run curling leagues in the past? If you are skating on thin ice with your parents and need to get out of the house – give this a go. With the Winter Olympics coming up, the Pepsi Ice Center is a great way to expand your skills on the ice – be it speed skating, figure skating, or hockey. Or, more realistically, to gather with family and friends for the perfect winter activity.  The Ice Center has the benefit of being indoors, so you do not have to brave the elements and you can't fall through this ice!
---
See and Sip
Downtown Bloomington Art Galleries
Eaton Gallery
Location:
 411 N. Center St., Bloomington
Cost:
Free
Mclean County Art Center
Location: 
601 N. East St., Bloomington
Cost:
Free
Coffee Hound
Location: 
407 N. Main St., Bloomington
Cost:
$2.95-10
Retrofit Culture
Location: 
1014 W. Washington St., Bloomington
Cost:
Free to look – prices vary
Neighborhood Thrift
Location: 
406 N. Main St., Bloomington
Cost:
Free to look – prices vary
Gigi Bottega
Location: 
413 N. Main St., Bloomington
Cost:
Free
Crossroads Handcrafts of the World
Location: 
428 N. Main St., Bloomington
Cost:
Free to look – prices vary
Bundle up and explore the hidden gems of Downtown Bloomington, starting with a cup of "Bloomington Normal's Best Coffee" from Coffee Hound to keep warm, From there, head down Main Street to find art galleries, thrift stores, and boutiques. At Eaton Gallery and Mclean County Art Center, you can discover local artists' showcases. At Neighborhood Thrift, pick out cheap and unique finds to bring home – ranging from knick-knacks to full-sized furniture. If you're looking for more shopping opportunities, check out shops like Gigi Bottega and Crossroads, which offer more expensive, high-quality clothing and gifts. And if you're looking for the best of both worlds, stop in at Retrofit Culture, with vintage clothing, handmade gifts, and a DIY succulent bar. Support local business and enjoy an afternoon out of the house.
---
Level Up
iVertix Virtual Academy Arcade
Cost:
$10/30 minutes; $15/1 hour
Location:
304 North Main Street, Normal
Hours:
10 a.m.-8 p.m. (Closed on Sundays)
Phone:
(309) 808-3056
Ever want to get away from the barren wasteland of winter: the dead trees, frigid ground, and dull skies? Trade reality for virtual reality as it has arrived in Normal at iVirtex Virtual Reality Arcade. The arcade supplies patrons with a headset capable of bringing the latest in virtual reality gaming. A variety of vivid worlds and exciting adventure awaits within the VR, a computer-generated simulation in a 3-D space, where thanks to binaural headphones, special headsets, and motion tracking, an immersive environment is created. Participants can pay for time with a VR headset, like in Avatar or the Ready Player One. Kids under 7 must stay in the wasteland, but Ivertix also offers air hockey and a chalkboard wall. But if you want to make your younger siblings jealous, they also have flatscreen displays so others can see what you are experiencing. Don't fret over the boring winter break because if you don't like your reality – you can make a new one.
Additional info:
Age 7 and up; Children under 7 can still come and hang out but are unable to use the VR set.
---
Make
Artful Designs
Cost:
 $7 Studio Fee + cost of pottery
Location:
 502 N. Prospect Rd. Suite 24, Bloomington
Hours:
Monday – Closed; Tuesday-Wednesday – 11 a.m.-6 p.m.; Thursday-Friday – 11 a.m.-10 p.m.; Saturday – 10 a.m.-5 p.m.; Sunday – 1 p.m.-5 p.m.
Phone: 
 (309) 664-6655
After a long semester, do you feel like your creative juices have been drained? Well, Artful Designs is the place to get them flowing again. Best known for its Paint Your Own Pottery classes, where you pick out and decorate pottery (keep this in mind for the next time you are struggling to come up with a gift idea for mom), they also offer many different projects throughout the year like jewelry making. The studio provides the tools and resources for you to customize the work (and the cleanup), while the staff will provide you with tips and any assistance you might need to imitate Picasso.
---
Bowl
ISU Bowling and Billiards
Cost:
 $3 per game; Shoe Rental – $2
Location:
 W. Locust St., Normal
Hours:
 Monday- Thursday – 8:00 am- 11 pm; Friday – 8 am- 1 am; Saturday – 12 pm- 1 am; Sunday – 12 pm- 11pm
Phone: 
 (309) 438-2555
Pheasant Lanes
Cost:
 Cost varies on time and day – cheaper rates are before 4 p.m.; Shoe Rental – $3
Location:
 804 N. Hershey Rd., Bloomington
Hours:
 Monday – 9:00 a.m.-10:00 p.m.; Tuesday-Friday – 9:00 a.m.-12:00 a.m.; Saturday – 10:00 a.m.-12:00 a.m.; Sunday – 12 p.m.-10 p.m.
Phone: 
 (309) 663–8556
Did you get socks for Christmas? Well, what better place to show them off than the bowling alley. If you want to get out of the house this winter break, check out ISU Bowling and Billiards or Pheasant Lanes.  Pheasant Lanes, near Eastland Mall, offers 32 lanes along with arcade games. Pheasant Lanes also serves some delicious fried food and pizza – so you could have your lunch or dinner covered while you're there. ISU Bowling and Billiards is a great alternative with its pool and ping pong tables available to rent. If you are struggling to figure out what to do with a group of friends, Pheasant Lanes or the Bowling and Billiards Center offer up some cheap and fun activities that will get you off of the couch. 
---