Beyond State
Marching band's 'Beyond the Sea' goes beyond trophies in historic season
Dec 1, 2022
The Normal Marching Band (NMB) saw its most successful season since Community's and West's programs combined five years ago. The co-op competitive band earned first in Class 6A and second overall at the Illinois State Marching Band Championships Oct. 22.
At last season's Championships, the group finished second in Class 6A, marking the band's first in-person performance since COVID. 
Despite last year's success at State, Mr. Paul Carter, the team's second-year co-director, said the 2021 season was difficult because "there was a lot of rebuilding" following the pandemic. 
This season, NMB's ensemble expanded from 120 to 157 members—signifying a return to pre-pandemic numbers. 
"Now that we've reestablished what we are," Carter said, "we can continue to push forward…." That push "has led to a lot of successes." 
The band's growth can partially be attributed to this year's freshman class, Carter said, which is "one of the biggest freshman classes [NMB] has ever had."
Nearly one-third of this year's performers were ninth-graders making their marching band debut with "Beyond the Sea." 
The group's inexperience didn't interfere with NMB's 'better than yesterday' mentality, its relentless pursuit of improvement. 
"We have students who really want to be [here]," Carter said, "who really want this band to be successful." 
Four-year member of NMB, drum major Krishiv Sreejith ('23), said that because the group was so united in their determination, this season's band felt like "more of a family" than in the past.
The group's dynamic has evolved since Sreejith joined NMB as a freshman, the second season Community and West performed together. 
During 2019, current drum major Shelby Hailey ('23) said, students from the rival schools struggled to perform cohesively. 
Hailey said that for the first few years of NMB's formation, "no one wanted to work together."
But those students have all graduated.
Now, Hailey said, "everyone works together no matter what school they're [from]." 
The group's camaraderie has led to its "biggest year yet," Carter said—their success at the 42-band State competition.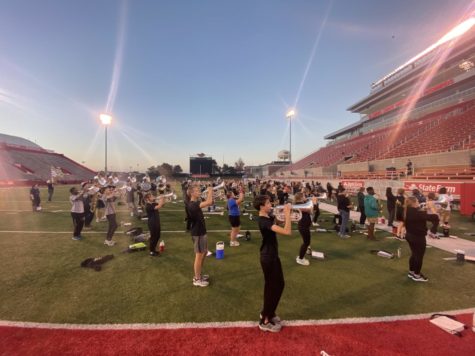 The season marked a first for veteran performers like Sreejith and Hailey, advancing to the Illinois State Marching Band Championships Finals to compete among the Top 14 bands at Illinois State University's annual contest. 
After COVID and a scheduling conflict left the marching band unable to compete in Finals their sophomore and junior years, this year's long-awaited Finals appearance marked incredible growth from the drum majors' freshman season.
At the 2019 competition, rain poured outside as NMB awaited the results of its preliminary round performance of "Looking Up," Hailey remembers. 
When the news that the band had earned fifth in Class 6A with a score of 71.150 and failed to qualify for Finals echoed off the walls of the cramped junior high gym, the group was devastated.
For Sreejith, that devastation was only motivation to work harder. 
"I think that was the specific event which pushed me to audition for the role of drum major," Sreejith said.
This season, his drum major position demanded hours in and out of practice conducting, contributing to director meetings and serving as a role model for the group's less experienced members.
"It was because of that [loss], that I am where I am right now," Sreejith said. With a score of 87.975 and a second-place finish at Finals this year—an overall improvement of at least 13 places—the hard work has been worthwhile.
Making Finals, Hailey said, was "just an amazing experience. I've never felt so overjoyed to be a part of something. I felt so happy." 
The best moment of the Sreejith's season, he said, was conducting that Finals performance, where the group played its most "musically successful" show. 
"I really felt that throughout my body because I was conducting," Sreejith said, "and I could feel the energy that [the band members] were all radiating." 
Feelings like this far exceed the value of any trophy or accolade. For NMB, the true value of competition isn't performing better or worse than an opponent, but taking pride in its own progress. 
"The goal is better than we were yesterday," Carter said. "The goal is not better than the band across the town, better than the band across the state. I think that culture we've developed has really, really led to a lot of successes."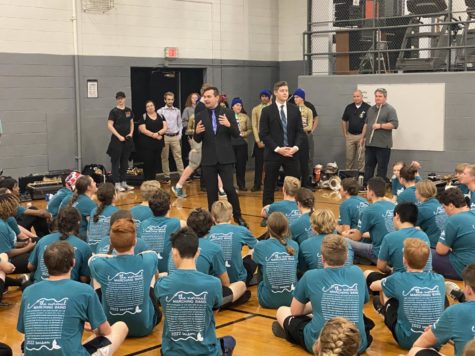 As proud as NMB members feel about their own successes, willingness to recognize other bands' accomplishments remains a core value. 
"When we're at competitions, we always cheer everyone on," Sreejith said. "We never make negative remarks… we would like to be appreciated by everyone, and we want to appreciate everyone else because we know they're putting in the same amount of work."
Hailey said meeting the O'Fallon and Morton High School's drum majors, two of NMB's most well-respected competitors, at this year's Belleville competition was one of the best parts of her season.
"They were the nicest people I've ever met," Hailey said. 
Unlike new friendships between bands or championship rankings, some successes are less visible to outsiders— but no less important. 
"Even within the six months of our season," Carter said, "we see tremendous individual growth from each of the students both as musicians and people." 
Once a shy freshman, scared to talk to her peers, Hailey said NMB has morphed her into an outgoing leader who hopes to one day direct a band herself.
"Now that I'm older," Hailey said. "I like to help others, and I really like talking to people. That's one of my biggest strengths."
Sreejith, who also wants to pursue music in college, said marching band pushed him to get in better shape—physically and mentally.
"It pushed me to make myself better mentally," Sreejith said. "It's helped me turn into more of a leader." 
For Sreejith and other drum majors, being a leader meant steering the band in unprecedented directions during the 2022 season. From training an usual number of first-time members to accepting new creative approaches, this year's ensemble was eager to expands its horizons. 
"They were willing to try anything that we asked of them," Carter said, "and they would put in their 100 percent effort for it. We don't always get that with every band." 
Months of adapting, enduring long practices and supporting each other through countless challenges allowed NMB to stand out in a sea of top bands this year, which has not gone uncelebrated by band leaders. 
But the hard work, the commitment to constant improvement, never stops. 
Band directors have already begun creating sketches for next year with hopes that the group can "continue to grow towards an indefinable, indescribable goal of 'better.'" 
"At the end of the day," Carter said, "we try to focus our students and our efforts on being better than we were yesterday. If we do that, we consider that a success regardless of what the external factors are, the accolades that come with that."