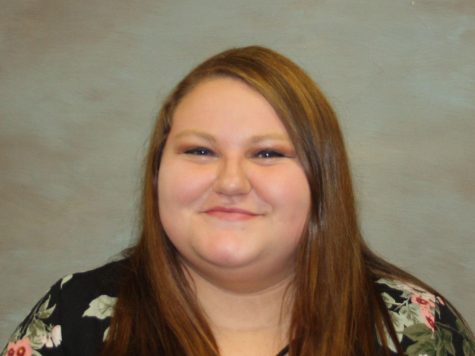 Ashleigh Brady is a senior at Normal Community High School and a 3rd year member of the Lady Iron Track and Field Team. She worked as a staff reporter her junior year and a sports editor her senior year.
I am interested in
pursuing Journalism at the University of Alabama.
If I won a million dollars
I would buy season tickets for the Chicago Blackhawks for the rest of my life. 
Ashleigh Brady, Managing Editor
Apr 25, 2018

Bad News Blackhawks: Breaking down the comeback that wasn't

(Story)

Mar 21, 2018

Print Edition Extra Feature: A (closer) look at non-traditional sports

(Story)

Mar 13, 2018

Head football coach replacement announced

(Story)

Mar 01, 2018

Board appoints new Athletic Director

(Story)

Feb 03, 2018

Breakdown of Super Bowl LII

(Story)

Feb 03, 2018

Senior places 71st in IHSA State bowling competition

(Story)

Jan 11, 2018

10 Things That All NCHS Seniors Should Miss After They Graduate

(Story)

Dec 21, 2017

Inkspot Holiday Gift Guide

(Story)

Dec 20, 2017

VIDEO: Students share their plans for Winter Break

(Story/Media)

Nov 15, 2017

Spot the difference: 'Miracle Worker'

(Story)

Nov 15, 2017

Spot the difference: 'Miracle Worker' solution

(Story)

Oct 30, 2017

By The Numbers: Chicago Mount Carmel

(Story)

Oct 25, 2017

ISU takes the bite out of Coyotes in Homecoming game

(Story)

Oct 24, 2017

By The Numbers: Downers Grove North Trojans

(Story)

Oct 16, 2017

By The Numbers: Champaign Central Maroons

(Story)

Oct 11, 2017

By The Numbers: Danville Vikings

(Story)

Oct 04, 2017

NFL Week Four Scores

(Story)

Oct 02, 2017

By The Numbers: Champaign Centennial Chargers

(Story)

Sep 28, 2017

NFL Week Three Scores

(Story)

Sep 25, 2017

By The Numbers: Bradley-Bourbonnais

(Story)

Sep 21, 2017

NFL week two scores

(Story)

Sep 20, 2017

NFL week one scores

(Story)

Sep 19, 2017

By The Numbers: Peoria Richwoods

(Story)

Sep 11, 2017

By The Numbers: Normal West

(Story)

May 25, 2017

Look at the dynasty: Chicago Blackhawks

(Story)

Apr 25, 2017

GAWVI's "Closer" provides positive pop beats

(Story)

Mar 24, 2017
Feb 27, 2017
Jan 30, 2017

Teacher horror stories

(Story)

Dec 15, 2016

Ironmen fall 57-60 to Central Catholic

(Story)

Oct 28, 2016

Lady Iron takes W out of West

(Story)

Oct 14, 2016

Lady Iron volley past Danville

(Story)