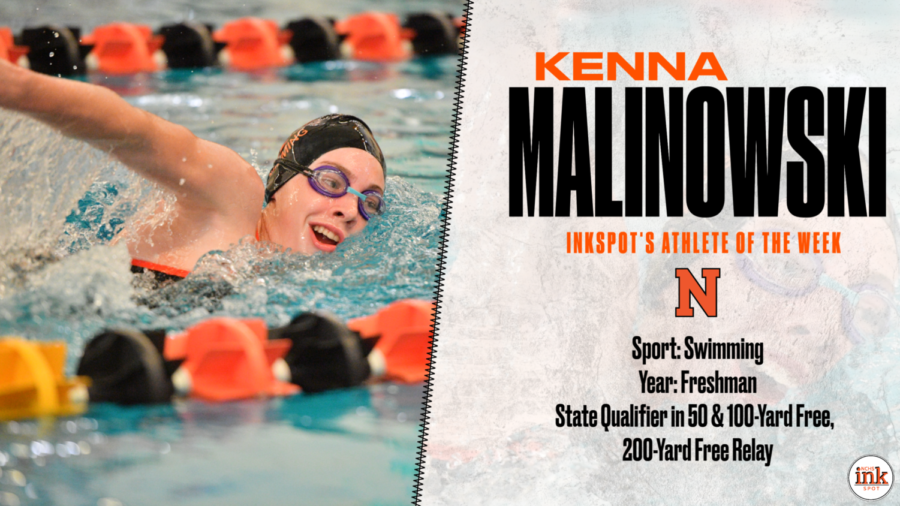 Jeff Christopherson
Freshman Kenna Malinowski helped the Lady Iron swim team win Intercity, the Big 12 Conference meet, and their IHSA Sectional.
Malinowski finished first at Sectionals in the 50-Yard Freestyle (24.32), second in the 100-Yard Freestyle (52.46) and first in the 200-Yard Freestyle Relay (1:40.04) along with teammates Larissa Harr, Nina Osborne, and Meghan Kilcoin. She will compete in all three events at State in Westmont this weekend.
Hardest Part of Swimming: "Definitely the mental aspect. You have to come into practice, even on the days you don't want to go, and work hard."
Favorite Moment of Career: Qualifying for State in three events at 2021 IHSA Sectionals.
Biggest Strengths: Confidence, strong work ethic, and the fact that I "love what I'm doing."
Best Part of Swimming for Community: Building friendships with teammates and having Coach Budak to push Kenna to be her best.
Favorite School Subject: Biology or Geometry
Favorite Food: Chicken
Other Activities: Basketball