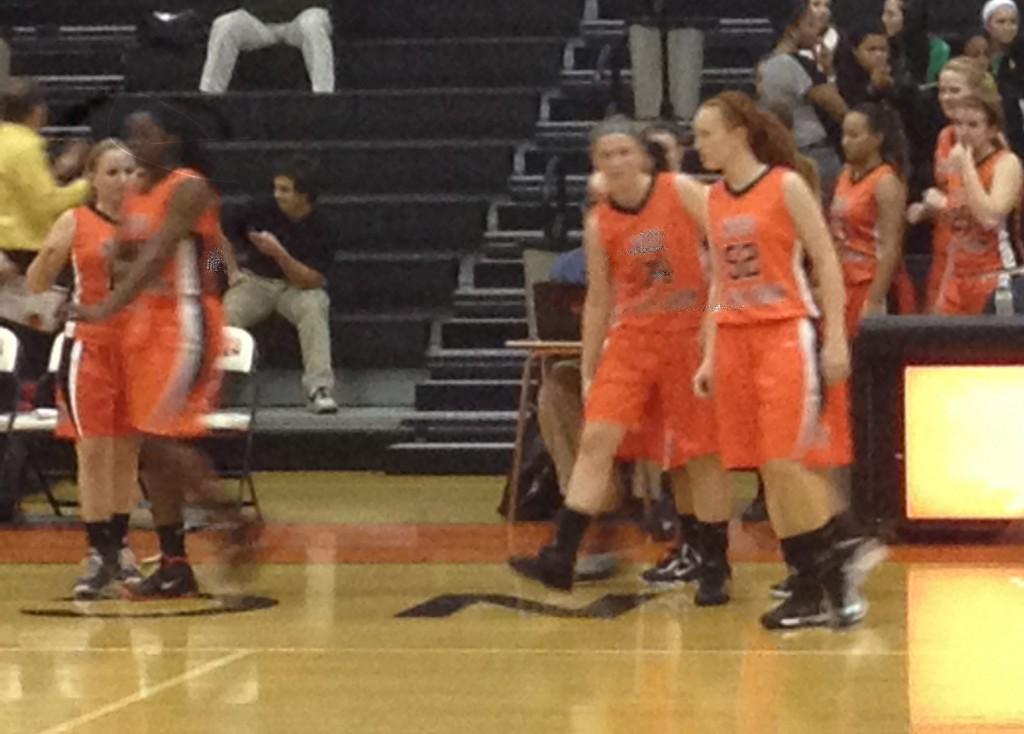 John Lenz
The season opener on Monday for the Lady Iron basketball team definitely could have gone better.  From tip off until the end of the 4th quarter, NCHS was at the mercy of the U-high Pioneers. Nothing seemed to go in favor of the Lady Iron.  U-high scored first, followed by an immediate NCHS turnover and another Pioneer basket.  This seemed to set the tone for the game, as the Pioneers won the game 61-37.  Not even a minute in, the Ironmen were down 4-0. This trend continued and by the end of the first quarter, the score was 17-6 with U-high in the lead.
Senior Luci Weis, NCHS's starting point guard, gave up 4 turnovers in the first 4 minutes.  However, Weis ended up being the Lady Iron's leading scorer with 9 points. Abby Bender also had 9 points, all of which were 3-pointers.
Less than 2 minutes into the start of the second quarter, Abby Kreuser suffered an injury when she and a U-high player accidentally made contact, resulting in a chipped-tooth.  Coach Mann could be seen holding the tooth while Kreuser was being taken care of, as she was obviously in a great deal of pain.  However, not 5 minutes after being taken out, she was back in playing without showing any signs of pain or distress.
The Ironmen were outscored 9-20 in the second quarter, leaving U-high in the lead 15-37 at halftime.
Overall, NCHS's defense is what let them down, especially in the second half.  U-high scored 3 times in the first minute of the second half, all of which were close range shots.
Not much changed in the third quarter; U-high once again outscored NCHS 9-20.
However, the Lady Iron began to show signs of life in the forth quarter.  Their defense drastically improved, holding the Pioneers to just 4 points in the forth.  Although NCHS outscored the opponent 12-4, the Pioneers still came out on top.
Coach Belt, one of the assistant coaches, commented on the game.  When asked if they lost or got beat, he stated, "A combination of both.  We're a new team so we're still figuring out our identity and the other team was obviously really talented."
The Lady Iron basketball team plays Central Catholic on Wednesday.  Belt stated what needs to change by that time by saying, "We still gotta get the basics down.  Communication, ball movement, and execution.  I don't feel like we executed our game very well."
The game will be held at NCHS at 7:30pm.  Anyone who wishes can also watch NCWHS play U-high at 6pm, which is also at NCHS.  The Ironmen are hosting the intercity tournament this year, so all intercity tournament games will be held in the NCHS gym.