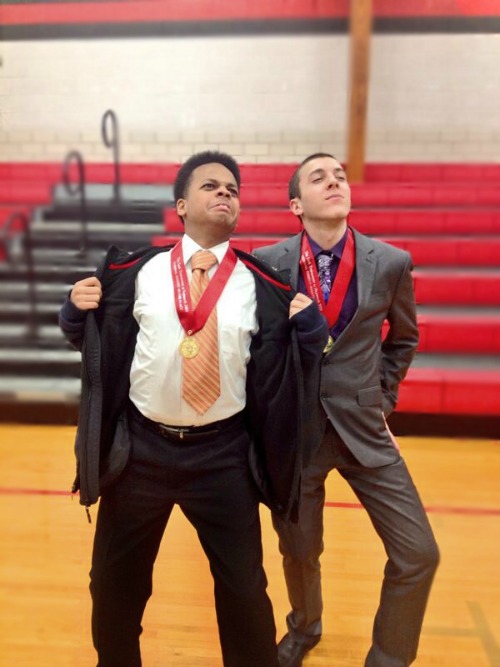 For juniors, Zack Moravec and Mel Campbell, performing in front of others is something they're quite accustomed to. As members of the NCHS Speech Team, they speak publicly for fun.
Both Moravec and Campbell are competitors in the Original Comedy Speech event in which a person writes an original script and performs in front of other competitors.
Zack Moravec has been a part of the NCHS Speech Team for two years, saying he originally joined because he wanted "to branch out and be more comfortable with performing in front of others." Mel
Campbell has been on the team since his freshman year, stating "As a freshman I tried out for the fall play and was not cast. So I wanted to do some acting while waiting for the next play. But, I've been hooked [on speech] since then!"
However, their speaking went from performing in front of fellow students from schools, to an audience downtown at the Bloomington Center for the Performing Arts. The two NCHS students were asked by a BCPA representative, who emailed their coach, Ms. Kaitlyn Hoegger, to perform as the opening act for stand up comedian and performer Tig Notaro. Hoegger said that Moravec and Campbell were her first two thoughts, given their comedic talent.
Tig Notaro is a Grammy nominated comedian who has appeared on Conan, Community, The Office and multiple other television and talk shows. She has made multiple stops across the country during her tour, Bloomington being one.
When asked about the performance and the experience, Moravec said: "it was like any other time performing, except there was more lights…so I just looked into those rather than focusing on the crowd."
Campbell stated: "It was great to have that crowd dynamic. People are on the edge of their seats waiting for something comedic and you can't wait to give it to them!"