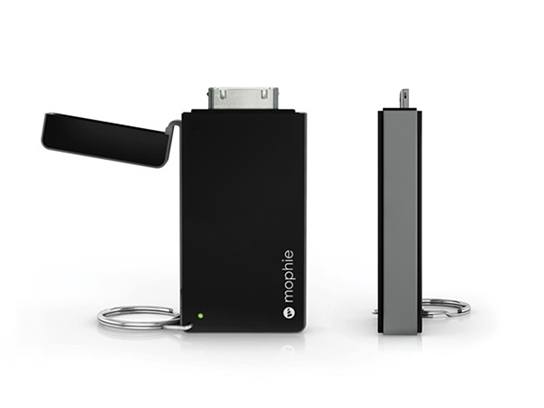 Photo courtesy of www.morhie.com
A recent growing trend for iPhone users is the Mophie Juice Pack.  These are rechargeable phone cases and portable chargers that allow you to charge your phone wherever you are with no plug-in needed.
The first form of the Mophie Juice Pack is the rechargeable phone case.  They range from $79 -$150.  The pricing depends how much of a charge the pack can hold. As expected,  the more expensive Juice Packs hold a longer charge.
There is an "outdoor edition" which allows iPhone users to use their phone as a connected GPS.
They vary in color, as well.  The $79 dollar case, the juice pack air, is available in three colors (black, white, and red). The $100 case,the Juice Pack Plus, is available in seven colors or the outdoor edition. The Juice Pack Pro, which is $130, is available in black only or the outdoor edition.
A rechargeable phone case is also available for the Samsung Galaxy.
There are two forms of the portable battery Mophie.  The first one is called a "Mophie Juice Pack Reserve."  With the portable batteries, it is simply the charger that you put in the end of the iPhone.
The nice thing about the reserves is that the USB used to charge the pack is built into the device, so there is no extra cable to worry about.  The downside to them is that it doesn't fully charge your cell phone, it only charges it about half way.  They come in black or (PRODUCT) Red.
The portable batteries range from $35.00-$50.00.  It is small enough that it comes in keychain form.  The $50.00 Mophie is called the "Juice Pack Boost."  It has the same concept as the Juice Pack Reserve, but it swivels so you are able to have your phone stand up on the charger, rather than laying your phone down with the charger sticking off of it.  Also, it charges a phone completely rather than the reserve that only charges it halfway.
The more expensive ones are "Juice Pack Power Stations".  For this item, a USB charger is needed and is plugged into the USB on the juice pack.  It is almost the same as using a wall charger, but portable.  With this, the iPad can be charged and other products with a USB port as well.  As long as you own a charger with a USB on one end, the phone will be able to be charged.
It is possible to buy add-ons such as leather cases, or even "replacement caps" for your Mophie Juice Pack.  Mophie also sells replacement USB cables in case your Mophie charger gets lost.  The Mophie Juice Packs are very convenient for charging an iPhone on the go. These come highly recommended if you need to keep a charged phone at all times, or even if your phone has low battery when you are leaving your house.